HomePC GamesHeracles: Battle with the Gods
Heracles: Battle with the Gods
Platform:

PC Games

File size:

128 MB

Category:

Arcade & Puzzle, Casual Games
Club Masque

GOLD


member price:

$5.99


Regular price:

$6.99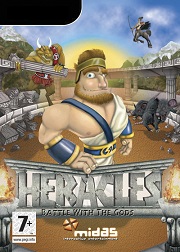 Description
Journey across the obstacle-filled lands of Ancient Greece, save Pegasus, and earn the favor of the Gods in exciting run-and-jump platformer action!

Join Heracles on an amazing adventure to rescue his best friend Pegasus from the evil God of the sea, Poseidon, and earn favor from the Gods. Only by succeeding in his quest can his banishment from Mount Olympus be undone.

Lead Heracles on an epic journey across the magical lands of Ancient Greece. Navigate through 30 levels of non-stop action -- including hidden bonus levels. Traverse a wide array of treacherous landscapes: negotiate around different environmental hazards, slippery ice patches, burning ledges, traps and other obstacles. Gather numerous treasures; and use your superhuman strength, stamina and agility to defeat a variety of foes from the realms of myth and legend -- including Medusa, Cerberus, the Minotaur, and others. Finally, deliver Pegasus from his evil captor!