HomePC GamesSaving Private Sheep
Saving Private Sheep
Platform:

PC Games

File size:

76 MB

Category:

Arcade & Puzzle, Casual Games
Club Masque

GOLD


member price:

$5.99


Regular price:

$6.99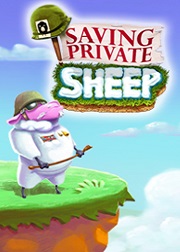 Description
The war between wolves and sheep is raging; help lead the woollen warriors to safety!

The wolves' territory is expanding rapidly, encroaching onto the peaceful green pastures where the sheep have long lived. And now that the shepherds have been called away to war, the sheep are more vulnerable than ever. Join the sheep, help lead them as they rise up to protect themselves and show the wolves they are not mere lambs who can be led to slaughter in silence.

Guide the sheep to secure zones by coordinating safe airborne landings and by destroying obstacles in the surrounding areas, so the sheep can achieve their objectives. Navigate through 80+ challenging levels. Be careful as you progress, because your missions will surely become harder and harder as increasingly complex structures and special blocks -- indestructible, explosive, etc. -- keep coming at you in a variety of shapes and with different actions. Combine your logic, dexterity and strategy to unlock bonus levels, win medals and ultimately achieve victory!