HomePC GamesMonument Builders: Statue of Liberty
Monument Builders: Statue of Liberty
Platform:

PC Games

File size:

88 MB

Category:

Simulation / Management, Casual Games
Club Masque

GOLD


member price:

$5.99


Regular price:

$6.99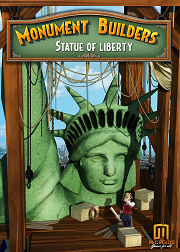 Description
Travel to New York in the 1880s and help build the Statue of Liberty!

Travel back in time and relive all the hustle and bustle of the industrial revolution in New York during the 1880s, at the height of building the Statue of Liberty! But this is more than just your basic tourist trip, so much more than just a guided tour!

Roll up your sleeves and get to work as you lead a team in building one of the most recognizable and symbolic sites in the world. Produce the resources needed for the operation, and transport the materials efficiently to the site. Make improvements to roads and equipment in order to get the job done.

Experience first-hand the fun and history behind this symbolic site, and discover the New York of yesteryear!