HomePC GamesSpace Legends: At the Edge of the Universe
Space Legends: At the Edge of the Universe
Platform:

PC Games

File size:

735 MB

Category:

Adventure, Hidden Object, Casual Games
Club Masque

GOLD


member price:

$5.99


Regular price:

$6.99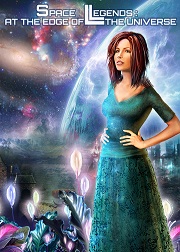 Description
Follow exobiologist and space explorer, Elizabeth Campton, as she travels to the outermost reaches of the universe -- help her survive as a mysterious new reality unfolds where past, present and future intertwine!

Elizabeth and her partner Steve -- two of the world's foremost scientists and explorers -- are working on the remote planet of Apriol when suddenly a storm approaches. The two quickly realize they must abort their mission and leave the planet. Steve leaves his experiment and hurries back to base, but upon returning Elizabeth discovers he is badly injured; and what's worse the team's ship has been damaged as well. Fortunately, Elizabeth is able to get the ship up and running, but the navigation system in down; thus they find themselves flying directionless deeper into space.

Help Elizabeth explore uncharted new territories, make amazing new discoveries, look for cures to help Steve survive, and ultimately find a way back home. Along your journey be prepared for unfathomable mystery and adventure, as you encounter a new civilization and a new world where past, present and future intertwine! Overcome challenging obstacles to save yourself, your partner and perhaps even an entire alien race in this unique science fiction adventure!