HomePC GamesMonument Builders: Colosseum
Monument Builders: Colosseum
Platform:

PC Games

File size:

142 MB

Category:

Simulation / Management, Casual Games
Club Masque

GOLD


member price:

$5.99


Regular price:

$6.99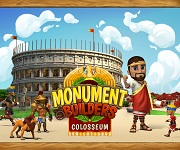 Description
Take a grand journey through architectural history as you help build the iconic Colosseum of Rome!

As the construction site manager, you have a huge responsibility to get one the world's largest monuments built on time by expeditiously managing an interesting array of resources and facing many unusual challenges. When was the last time you tamed a lion, or taken on a gladiator? Now's your chance!

Journey back to the 70s AD and lead the construction of the iconic arena in this monumental challenge. Break ground on the building site, construct quarries, and improve roads as you witness the structure rise from the ground. Build the majestic amphitheater from bare dirt and heavy stone, create competitive working conditions for your workers, and meet key objectives. With 50 levels of play to complete and tons of unlockable bonuses, Monument Builders - Colosseum is your best chance to ensure your name goes down in history. And as you progress, you'll even learn many neat fun facts!