Zombie Solitaire
Platform:

PC Games

File size:

92 MB

Category:

Casual Games, Card & Casino
Club Masque

GOLD


member price:

$5.99


Regular price:

$6.99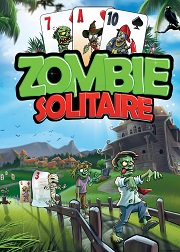 Description
Play your cards right and you just might escape the zombie apocalypse!

It's been two weeks since an infected tofu burger transformed some poor soul from a gentle vegetarian into a brain-devouring zombie. One thing led to another and now the slobbering undead have taken over the city. There's only thing to do – run for your life!

Before your can get to salvation on a zombie-free island, you'll need to puzzle your way through over 100 exciting rounds of solitaire and solve fun mini-games. But watch out! The hungry zombie horde is hot on your heels! Use power-up cards and your wits to escape.

Biting humor and fun card-game action await you in Zombie Solitaire. You'll have to use your brain if you want to keep it!