HomePC GamesMystery of the Missing Brigantine
Mystery of the Missing Brigantine
Platform:

PC Games

File size:

395 MB

Category:

Hidden Object, Casual Games
Club Masque

GOLD


member price:

$5.99


Regular price:

$6.99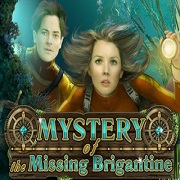 Description
Locate a missing treasure hunter and stop a dangerous tycoon in this thrilling hidden object adventure!

After discovering the whereabouts of a sunken treasure, Jack sets off to find the fortune. He soon loses contact with his friends Natasha and Professor Thompson, who are now eager to find him. The last they heard, Jack was on the trail of the famed Pelican Throne, a prize that German media tycoon Herman Grubber is also anxious to obtain. Will his friends find Jack, or have Grubber's goons already taken care of him?

Find out as you search for the treasure hunter in this challenging quest. Pick up the trail of his last known location and search for the clues that will reveal answers. Find objects to perform necessary tasks, solve puzzles to gain valuable information, and build devices to overcome obstacles. With three different characters to play, an engaging storyline, and danger at every turn, staying one step away from Grubber's goons will be the least of your problems.

Retrieve the treasure and save Jack!