HomePC GamesLes Miserables: Jean Valjean
Les Miserables: Jean Valjean
Platform:

PC Games

File size:

738 MB

Category:

Adventure, Hidden Object, Casual Games
Club Masque

GOLD


member price:

$5.99


Regular price:

$6.99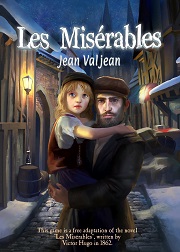 Description
Relive the story of Jean Valjean, the hero of the famous Les Misérables!

In 1815, Jean Valjean is freed from prison labor, and becomes an outcast filled with hate and a sense of injustice. He steals silverware from Monseigneur Bienvenu, who has provided him with food and shelter. However, the bishop's generosity teaches him what virtue and integrity are. When Jean Valjean arrives in Montreuil-sur-Mer, he becomes Monsieur Madeleine, the town mayor. He meets Fantine, and promises to save her daughter Cosette from the clutches of the Thénardiers.

Explore the novel's legendary scenes, solve challenging puzzles and mini games in order to keep your promise to Fantine: save Cosette from the Thénardiers. On your journey escape from Javert's manhunt, join the revolts of the French Revolution by helping Marius and Gavroche in the barricades on the Rue Saint Denis, and experience many other twists and turns.