HomePC GamesWitchcraft: The Lotus Elixir
Witchcraft: The Lotus Elixir
Platform:

PC Games

File size:

203 MB

Category:

Hidden Object, Casual Games
Club Masque

GOLD


member price:

$5.99


Regular price:

$6.99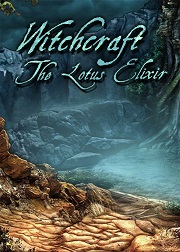 Description
Welcome to a world full of magic!

An uncanny adventure is near! Dear Witch Apprentice, are you ready to meet your fate? You possess the special ability to work magic by cooking, so it makes you the only person who can manage this dangerous task. You need to hurry to win the ingredients of the Lotus Elixir to help Gaya, your friend and tutor. Save your world endangered by threatening power of Hedera!

Witchcraft: The Lotus Elixir invites you to travel through beautiful and mysterious locations. Numerous quests and puzzles, as well as hidden object scenes are waiting for you. And artfully crafted scenes and atmospheric soundtracks will pull you into the world hovering in an undefined past. Welcome to a world full of magic!