HomePC GamesThe Treasures of Montezuma 5
The Treasures of Montezuma 5
Platform:

PC Games

File size:

80 MB

Category:

Match 3, Casual Games
Club Masque

GOLD


member price:

$5.99


Regular price:

$6.99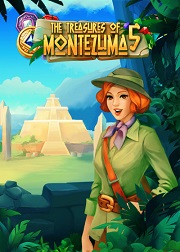 Description
Search for untold treasure deep within an ancient temple!

A thrilling gem-matching adventure awaits those who dare to explore the jungle of the Aztecs, where untold treasure lies hidden deep within an ancient temple! Will you dare to venture into the tangle, where you'll discover the long forgotten powers of the totems, and learn to unleash their magic on arrays of glittering gems? Can you master the variety of bonuses, and use their explosive abilities to rack up insane high scores? And will you be able to complete each quest that stands before you, no matter how formidable? Then you are ready for the all-new Treasures of Montezuma 5.

Featuring a return to longer level times and more challenging goals, Treasures of Montezuma 5 offers a variety of captivating modes, from classic gem-gathering quests to intense treasure hunting missions. Each new twist and turn will keep you on the edge of your seat as you visit the Store to upgrade the totems and bonuses, try your luck at the Slot Machine, and earn dozens of gratifying Achievements. Offering butter-smooth gameplay and jaw-dropping visuals, Treasures of Montezuma 5 breathes new and exciting life into the gem-matching genre and will provide hours of addictive fun!