HomePC GamesRooms: The Unsolvable Puzzle
Rooms: The Unsolvable Puzzle
Platform:

PC Games

File size:

187 MB

Category:

Arcade & Puzzle, Casual Games
Club Masque

GOLD


member price:

$5.99


Regular price:

$6.99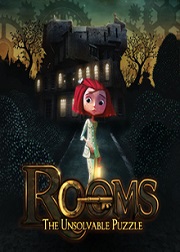 Description
Unique puzzle game in a fantastical mansion of a legendary toymaker!

Enjoy this critically-acclaimed sliding puzzle / platformer game, set in a fairy tale-like world full of magical objects and spooky stories. Take on the role of an innocent little girl, Anne, who has been accidentally trapped in a unique yet twisted mansion. Help her find a way to the exit!

In this twisted mansion, the rooms slide like puzzle pieces; it's up to you to find solutions that lead toward the exit by moving the rooms around and using what's inside them. As you explore, various gadgets are introduced that make the puzzles more tricky and challenging. Solve 144 different levels set throughout 4 themes, and use Anne's special abilities -- like using a cellphone to teleport, placing a bomb, and moving all rooms at once -- to find the way out!