HomePC GamesAirport Madness: World Edition
Airport Madness: World Edition
Platform:

PC Games

File size:

52 MB

Category:

Simulation / Management, Casual Games, Strategy
Club Masque

GOLD


member price:

$5.99


Regular price:

$6.99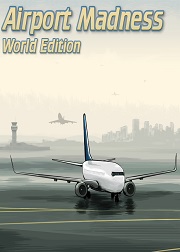 Description
Insanely addictive, easy to learn, impossible to master! An airport strategy game designed by real air traffic controllers!

Airport Madness captures all the fun, and stress, of air traffic control. The decisions and actions you make in this game are identical to real-world airport ops.

Keep arriving and departing airplanes safe from collisions, while avoiding unnecessary delays. In this game you will work at the world's most complex airports. Pay attention at all times and keep your eyes moving, because there is always something you should be doing. Give takeoff clearances, landing clearances and taxi clearances in a strategic effort to maintain safety and efficiency where there would otherwise be total chaos.

Human pilot voices, a radar screen, 12 different real-world airports, plus an awesome soundtrack make this game a must-have for anyone who likes aviation. Do you have what it takes to be an air traffic controller at a busy international airport?