Planet Driller
Platform:

PC Games

File size:

67 MB

Category:

Adventure, Arcade & Puzzle, Strategy
Club Masque

GOLD


member price:

$5.99


Regular price:

$6.99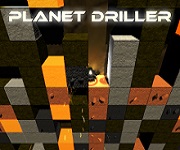 Description
Drill a distant planet's surface to find DarkMatter and save the world!
Planet Earth is dying. Its only hope is the recently discovered DarkMatter found in another galaxy. So it's up to you to drill a distant planet's surface to find this DarkMatter and save the world!
Enjoy:
A Procedural World -- in Planet Driller the world is procedurally generated, so that every new game you start, you'll get a different experience... with more than 4 Billion different worlds.
Dynamic Economy -- as you discover more minerals the price of each one will start to decrease, based on the law of supply and demand (i.e., the more gold you find, the less it will be worth).
Upgrades -- at first your ship has a slow drill speed, a small tank, low storage and a weak protecting hull, but as you sell more minerals and collect more money, you can buy upgrades for each component that will make the job easier!
Tools -- several tools will help your journey: Explosives, because sometimes blowing up your path is easier then drilling it. Beacon, to teleport you back to the surface wherever you are. Insurance, to give you a brand new ship once you destroy yours.
Natural Disasters -- the planet you are exploring is hostile and from time to time natural disasters will happen, like meteor showers, earthquakes and blizzards that will make your journey not as pleasant.